Are Grandparents Moving To Roseville CA To Be Closer to Their Grandkids?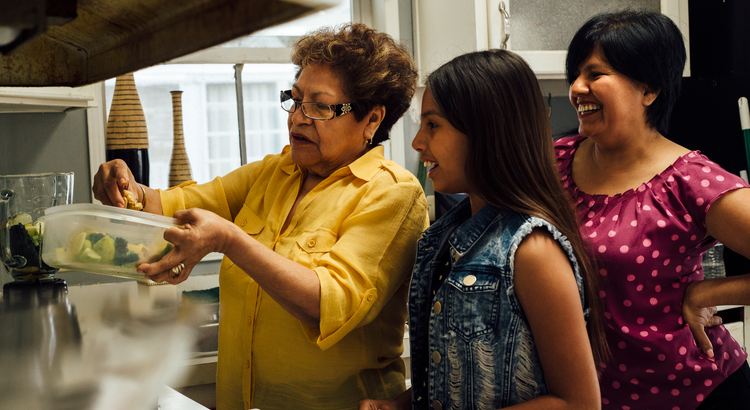 During the pandemic, many people distanced themselves from their loved ones for health reasons. Grandparents were told to stay away from their grandkids, especially as schools started to open. That's because some people thought that would have been risky to visit with their grandchildren who may have gotten sick from school. (BUT did you you know many were also using the time and moving to Roseville CA during that same time period!) 
Now that the pandemic has passed, many grandparents want more than ever to be near their grandchildren again to make up for all that lost time. But how are they getting that "Grandparent Wish?" Real Estate data tells us many are moving to Roseville CA or other areas where their grandchildren live to make sure they're getting more quality time. Even better – many of my real estate clients who are boomers and seniors are telling me the exact same thing! And with cute grandkids locally, but even more in two other states, I can TOTALLY understand. (I do LOVE Southwest Airlines!) 
Many Grandparents Are Moving to Roseville, Rocklin or Lincoln To Be Near Loved Ones
Recent data from the National Association of Realtors (NAR) shows people between the ages of 55 and 74 are moving farther (more than 100 miles) than any other age group! For that matter, I have clients who are older than that – some are moving to be near the grandkids. Others for our lovely retirement communities. So many GREAT choices. (see graph below):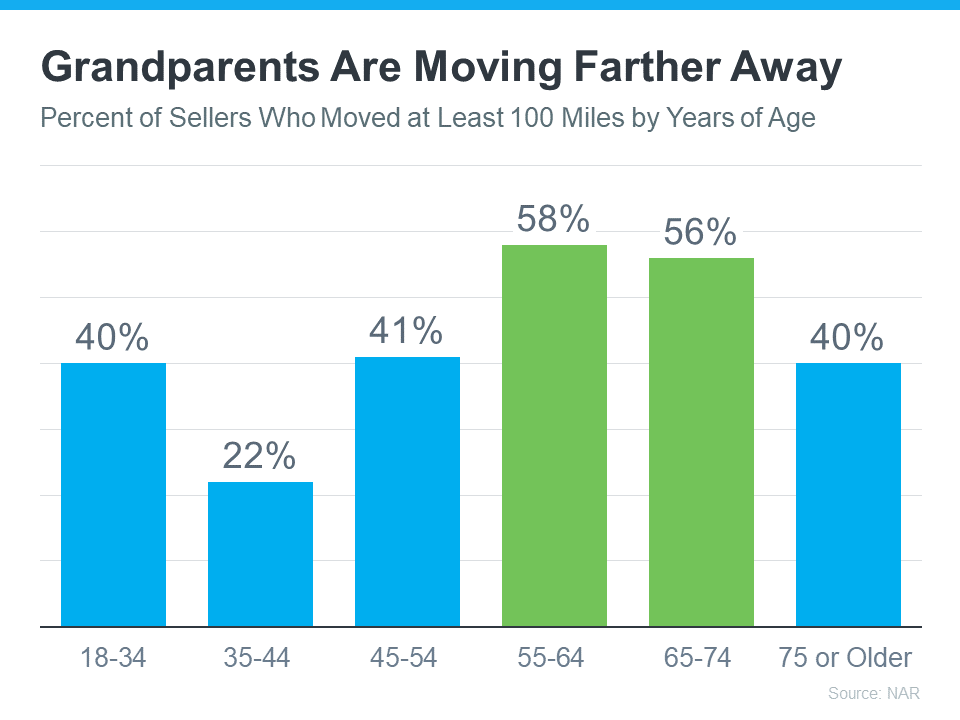 The average age of grandparents in the U.S. is 67 years. The logical leap is that at least some of the people who are moving the furthest are grandparents. But what's causing them to move so far?
The same report from NAR shows the top reason people move is to be closer to loved ones (see graph below):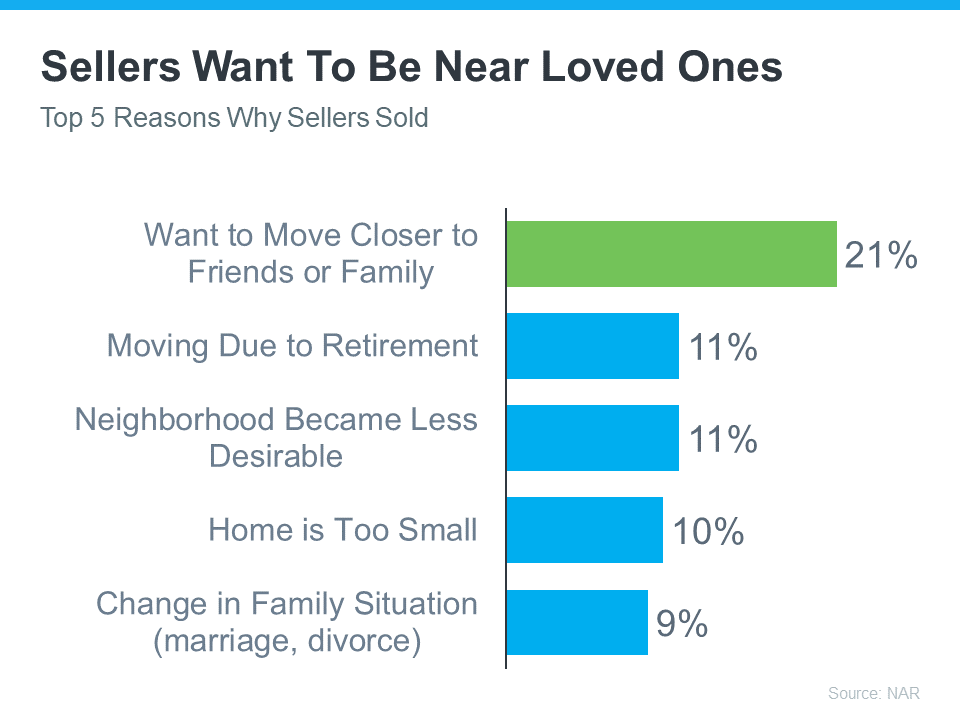 Based on this data, it's fair to say many grandparents are getting their wish of more quality time with their grandchildren by moving to be closer to them. And after experiencing isolation and loneliness during the COVID pandemic, that's an especially good thing.
If you're a grandparent, you know how important your grandchildren are. And you may be willing to sell and move to Roseville California area just to be closer to them. As Vance Cariaga, a journalist at Go Bank Rates, explains:
"Never underestimate the power of grandchildren – especially when it comes to lifestyle and financial decisions. Recent data shows that many baby boomers are relocating further away from home than they used to so they can be closer to their grandbabies."
Checking Out The Current Home Options for Those, Including Grandparents, Moving to Roseville CA
10-14-23 – Homes for Sale in Roseville CA 
According to Metrolist MLS, there are currently 254 homes for sale in Roseville CA ranging in price from  $279,000 to $1,889,990 plus one extreme "outlier" for $4,500,000

 36 Homes decreased in price in the last 7 days

 5 Homes increased in price in the last 7 days
10-14-23 – Homes for Sale in 55 Plus Retirement Communities Roseville CA Rocklin CA Lincoln CA
 According to Metrolist MLS,  there are currently 82 homes for sale in 55 Plus Retirement Communities in Roseville Rocklin and Lincoln. They are ranging in price from $340,000 to $1,300,000.

Of those – 52 are in Lincoln CA – most are in Sun City Lincoln and the rest are brand new homes in *Esplanade at Turkey Creek, 2 are in Springfield at Whitney Oaks in Rocklin CA, and 15 in Sun City Roseville; and the other 13 are divided between Silverado Homes at Eskaton Village, The Club at Westpark and Lennar Heritage homes, ,  

13 Homes decreased in price

4 Homes increased in price
10-14-23 – Homes for Sale in Placer County 
According to Metrolist MLS,  there are currently 732 homes for sale in Placer County ranging in price from $245,000 for a condo in Auburn to $4,700,000 in Loomis with an outlier in Tahoe of a lakefront 7 bedroom home and guest house for sale for $34,500,000.


57 Homes decreased in price in the last 7  days

5 Homes increased in price in the last 7 days
Mortgage Rates Via Freddie Mac's weekly PMMS® Data
10-12-23 Freddie Mac average mortgage interest rate
Bottom Line
The data shows grandparents are moving further to be near their grandchildren. If you have grandchildren of your own, here in Roseville CA, maybe you can relate. When you decide you are ready to move to Roseville CA or the surrounding area, let's connect. – Give me a call at 916-768-0127. Or email me at KayeSwainRE@gmail.com. 
P.S. AND for you grandparents with grandkids NOT in this area, I would love to help you sell your home so you can head THEIR way. Sweet delights, don't you think? 😊
Have a lovely week!
All reports and info presented are based on data supplied by the MetroList MLS. The MetroList MLS does not guarantee or is not in anyway responsible for its accuracy. Data maintained by the MetroList MLS may not reflect all real estate activities in the market. Information deemed reliable but not guaranteed.
These figures and all figures in these articles include ONLY those homes on the MLS – a few of which may be brand new, most of which are traditional re-sale homes.  😊  AND if you are ever interested in BRAND NEW HOMES – be sure to take me with you THE FIRST TIME YOU VISIT. I gift ALL my real estate clients with a brand new one-year home warranty from old Republic.  But for brand new homes – Old Republic's warranty is a FOUR YEAR WARRANTY! Sweet! 😀 BUT if you don't take me with you the first time, they might not allow me to work with you. So definitely – CALL ME FIRST 😀